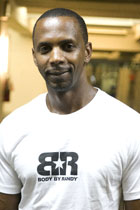 Randy Griffiths was born in Jamaica, and later moved to Brooklyn, New York at age 13 in the early 80's. Never letting go of his Jamaican roots, he decided to pursue a career in music entertainment after attending the Borough of Manhattan Community College for Business Management.
By 1991, Randy's dancehall promotions company was successfully growing to secure world famous Jamaican artists but little did he know that one serendipitous trip to a gym would change everything. Randy had run track during high school but never saw a gym, let alone even attempt to work out in one.
"That day I couldn't even do 5 push-ups, it was embarrassing, I had to learn. It was a definite wake-up call". – Randy
After that first failed workout he vowed to dedicate himself to become stronger and has never turned back. As Randy became stronger and healthier he felt a desire to help others do the same. He received his personal training certification in 1995 and began independently training clients in Brooklyn and Manhattan.
After being actively recruited in 2000, Randy joined on to train at the flagship location of one of Manhattans top fitness clubs, in the posh neighborhood of Nolita/Soho.
Randy quickly became the top grossing trainer at that gym within 2 years, and was training celebrities and artists such as Common, Loon, Jared Leto, Elizabeth Reaser, and several top runway models. At this point in his career he was averaging 8-10 clients a day.
Realizing his unique talents as a trainer and wanting to fulfill his enterpreneurial desires led Randy to create his own fitness consulting company. In the summer of 2006, BBR Fitness was born. Loyally, all of his clients followed.
Click here to download Randy's resume.
UNIQUE APPROACH
Randy uses a professional yet creative approach to create specific and dynamic workouts for each and every one of his clients. No two work outs are ever the same, because every client's body and needs are unique.
Although Randy sees the value of traditional exercises, he enjoys going 'outside the box' with his exercises and use of equipment. His versatility allows him to train clients for a variety of needs, whether for a specific sport, a competition, or to build muscle, for example.
Whatever special needs a client has, Randy is willing to create the best program possible for them. At times, he travels both locally and internationally to train his clients wherever they may need him.
Despite being known for tough training sessions, Randy creates an environment that allows his clients to be not only focused, but comfortable. He is a constant source of encouragement and motivation, which pushes his clients to reach their highest potential. These qualities make Randy not only a highly effective and desired personal trainer, but also a great friend and mentor.
Randy loves what he does and it truly shows. He holds himself to the highest level of professionalism; he is always respectful of time and its value to those around him. Keeping a watchful eye on his client's execution, he ensures they will maximize their workouts and results.
"I don't talk on the phone while I'm training with clients; we're there to workout, not chat. I make sure that my clients get the most out of their workouts. During that hour, they get my absolute attention" –Randy
Today Randy trains everyone from students, CEOs, big, small, those wanting to lose and those desperate to gain, the body is a variable but the control is that everyone can have a Body By Randy.